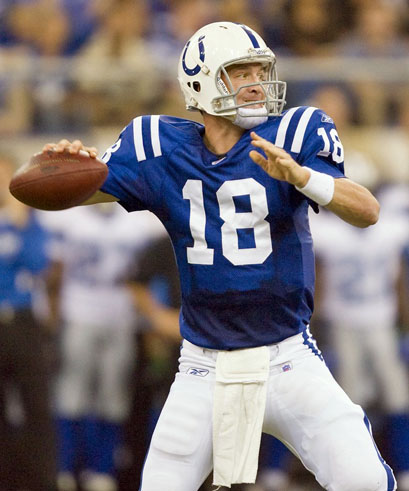 There's no limit to the number of purposes to which poetry can be put, including a celebration of one's favorite team.  Here's a piece of doggerel–which is to say, light comic verse–that I've written in honor of the Indianapolis Colts, who will be playing in the up-coming Super Bowl.   I'll annotate any obscure references in Monday's post.  
Ballad of the 2009 Colts
At the start of the season
Experts saw little reason
To believe that "the Horse"
Would compete as a force.
But the Colts remained calm
And their words were like balm:
"Lose our Coach Dungy?
We'll rebound like a bungee;
No Marvin Harrison?
We'll refortify the garrison
With a man from Cedille
Always good for a thrill
And a Mormon from Oakley
Who reminds us of Stokley;
There's a way if there's will,
And besides we've got Bill
Who a dynasty crafted
With players undrafted,
Like small Gary Brackett
Who they thought couldn't hack it.
And of course there's "the One"
With an arm like a gun—
When it comes to our Peyton,
You don't wanta be hatin';
And lighting-like Freeney,
That pass-rushing meanie,
And Dallas and Reggie,
Who make corners edgy,
So we should be okay—
Now let's go out and play."
The year began tight
Against Jacksonville's might,
Then a few easy wins,
Then the drama begins:
Down in the fourth
Was a matter of course;
They fought back so often,
Saw other teams soften,
That some accused Peyton
Of dealing with Satan.
And then came Tom Brady
Who drives the Colts crazy
And dark genius Belichick
Always a pain in the neck:
"4th down and 2—
What should I do
With Manning there waitin'?
Okay, no hesitatin',
Let's go for the win…
How'd that safety come in?!"
And now the December
We'll always remember:
A team that's depleted
But still undefeated;
Does it go for perfection
Or another direction?
"History you be spolian'–
Curse you, Bill Polian!"
Momentum, Bill stated,
Is far overrated.
If you want players' best,
First give them a rest.
Long-suffering Baltimore,
Home of the Colts heretofore,
Tested the theory—
And the Ravens were weary;
Rice was pureed
By the D's blinding speed.
Then came Rex Ryan
Either boastin' or cryin';
"We can't outtalk him,"
Said quiet coach Jim.
"But just let him blitz—
We will give the man fits."
Now in march the Saints,
No longer the aint's,
Blown by a Brees
That topples tall trees.
When he throws a lob,
It's a heckuva job.
So who are you for
As these clubs go to war?
America's team,
A drowned city's dream?
Or Peyton the brain
Who sees all things plain?
If he stomps on their throat
He just might be the GOAT. 
Both ways we win—
Let the contest begin.