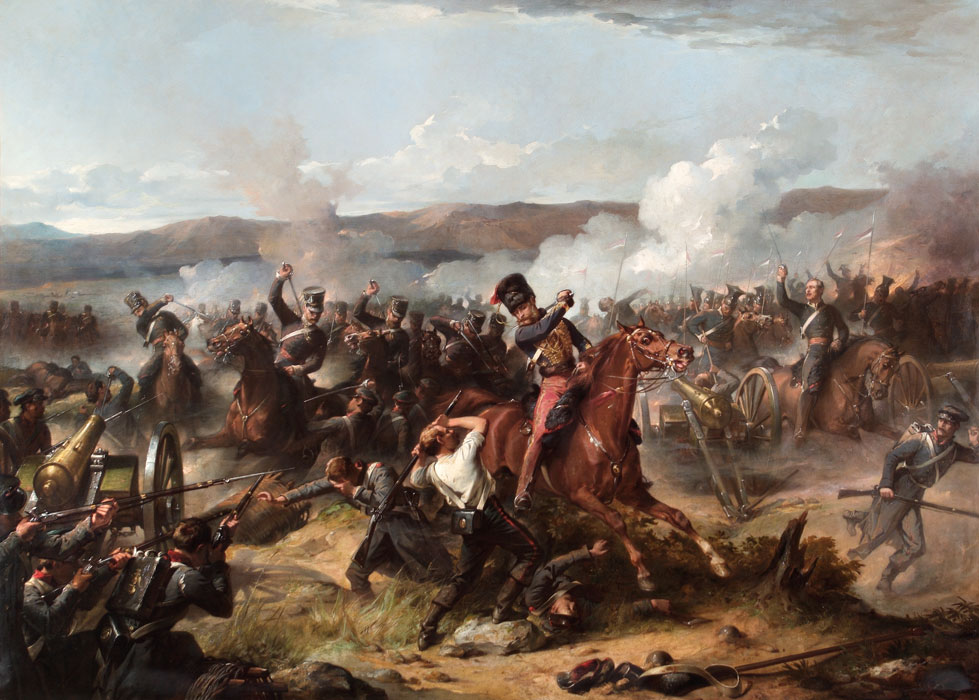 Increasingly Republicans are finding it harder and harder to explain exactly why they've shut down the government. One of them is now quoting, in his rationale, Alfred, Lord Tennyson's most famous poem. I'll provide details in a moment.
Originally the GOP hoped to use the threat of a government shutdown—or if not a shutdown, then the economic meltdown that would result from America reneging on its debts—to force the Democrats to defund Obamacare. To be sure, many Republicans thought this plan was doomed and crazy, but they weren't willing to stand up to Ted Cruz and the Tea Party. As a result, we now have a shutdown that practically nobody wants.
The GOP has since abandoned calls for defunding Obamacare and is demanding instead…well, respect. As Ben Jacobs of The Daily Beast noted yesterday, the shutdown is "now about winning, or the appearance of winning." Jacobs goes on to quote the widely circulated comment of conservative Indiana Republican Marlin Stutzman, "We're not going to be disrespected. We have to get something out of this. And I don't know what that even is."
Jacobs then notes an allusion to "The Charge of the Light Brigade" made by another House member:
The attitude is that now that they've gone to war, they have to fight to the death regardless.


This is even shared by those like Rep Devin Nunes (R-CA) who has long advocated for a clean CR [continuing budget resolution]. Nunes shares the view of most Republicans that now the fight has begun, they have to stick together, regardless of the consequences. He told The Daily Beast last week,  "Most of us are pretty much convinced, now that we've entered of valley of death we should probably stay and run together."

You probably already know how the Light Brigade's doomed charge into a Russian cul de sac came out but, just to remind you, here are a couple of stanzas from the poem:
"Forward, the Light Brigade!"
Was there a man dismayed?
Not though the soldier knew
   Someone had blundered.
   Theirs not to make reply,
   Theirs not to reason why,
   Theirs but to do and die.
   Into the valley of Death
   Rode the six hundred.
 
Cannon to right of them,
Cannon to left of them,
Cannon in front of them
   Volleyed and thundered;
Stormed at with shot and shell,
Boldly they rode and well,
Into the jaws of Death,
Into the mouth of hell
   Rode the six hundred.
I have several thoughts on this. First of all, if even comparatively sane GOP members are seeing themselves in a doomed but heroic charge; if even people who recognize the leadership has blundered nevertheless believe that theirs is not to make reply, theirs is not to reason why, theirs is but to do and die; then all kinds of crazy consequences are possible. If people are acting out of pride and some perverse sense of ideological glory, then it's going to be difficult to talk them down.
Of course, there's a difference in that the Light Brigade loses most of its men. If it were only the lives/careers of Congressional Republicans at stake, I suspect most of us could live with that. Unfortunately, they're taking the rest of the country down with them.
To add insult to injury, they're still getting paid during the shutdown, even while all others who work for the federal government (military excepted) have seen their salaries frozen. So it's others who are charging into the jaws of death while the House members look down at the slaughter from above.
I guess it's nice to see people citing a Victorian poem to strengthen their spines when facing crisis. I'd feel much better if it were truly for a noble cause.
Speaking of articles in The Daily Beast, I encountered another one yesterday that perfectly conformed to the plot of an O'Henry story. Can you identify the one I have in mind?
In the article, Peter Beinart is arguing that, seeing as how Republicans find that they've backed themselves into a corner, Democrats should extract concessions in return for giving them a face saving exit:
The argument against negotiating on broader issues until Republicans reopen the government is that doing so would reward legislative "hostage taking." By giving the GOP a budgetary "ransom" in return for doing what the GOP should be doing anyway, the logic goes, Democrats give Republicans an incentive to threaten a government shutdown and a debt default in the future.
But that logic only holds if by negotiating now, in the shadow of the shutdown and a debt default, Democrats concede more than they would otherwise. If Democrats concede less, then it's not they who would be paying the ransom. It's the GOP. Go back to the hostage-taking analogy. If kidnappers take your countrymen hostage, and you pay money to get them back, you've incentivized them to kidnap again. But if kidnappers take your countrymen hostage and the experience proves so disastrous that they're willing to give them back while also paying you, you should take the deal.
In the O'Henry story "The Ransom of Red Chief," the kidnappers of a god-awful little boy get the following letter back from the boy's father in response to their demands:
Two Desperate Men.
Gentlemen: I received your letter today by post, in regard to the ransom you ask for the return of my son. I think you are a little high in your demands, and I hereby make you a counter-proposition, which I am inclined to believe you will accept. You bring Johnny home and pay me two hundred and fifty dollars in cash, and I agree to take him off your hands. You had better come at night, for the neighbors believe he is lost, and I couldn't be responsible for what they would do to anybody they saw bringing him back.
Very respectfully,
 EBENEZER DORSET.
The kidnappers have been driven to insanity by their "victim" and consider $250 cheap. They don't even ask for a face saving way out. The GOP, since they are still receiving their salaries and come from safely right wing districts (most of them, anyway), aren't quite this desperate. Maybe, therefore, Democrats could offer them some conciliatory measure regarding Obamacare so they can say they won something—say, suspending the tax on new medical devices. But following Beinart's logic, in return they should demand that the GOP lift the sequester that is dragging the economy down.
There are also a couple of films that capture the hostage dilemma into which the GOP has blundered. Here's the always smart Jonathan Chait of New York Magazine invoking the Coen Brothers' Fargo as he looks at John Boehner and "what happens when you take hostages without a plan":
Boehner does not seem to share his party's sociopathic embrace of hostage tactics. Boehner resembles William H. Macy's character in Fargo, who concocts a simple plan to have his wife kidnapped and skim the proceeds, failing to think a step forward about what happens once she's actually seized by violent criminals. He doesn't intend for her to be harmed, but also has no ability to control the plan once he's set it in motion. In the end, Boehner's Speakership is likely to end up in the wood chipper, anyway.
And then there's the comedy Ruthless People, in which two wronged (and very gentle) clothing designers kidnap the villain Danny DeVito's wife (Bette Midler). They threaten to kill her and he, wanting her dead, dares them to do so, causing them to keep lowering their demands. The following dialogue ensues:
Barbara: So, when do I get out of here?
Sandy: As soon as Mr. Stone pays the ransom.
Barbara: What's the problem? What is the ransom?
Sandy: Well, we asked for $500,000.
Barbara: That should be no problem.
Sandy: He wouldn't pay.
Barbara: He wouldn't pay?
Sandy: Then we asked him for $50,000.
Barbara: Yeah?
Sandy: He still wouldn't pay. So now we're lowering our price to $10,000.
Barbara: Do I understand this correctly? I'm being marked down?
[Starts crying]
Barbara: I've been kidnapped by K-Mart!
Compare this to rightwing Washington Post columnist Marc Thiessen (of all people) mocking the GOP for their hostage taking skills:
Quick: What do Republicans want in exchange for ending the government shutdown? If you know the answer, congratulations — because Republicans sure don't…
So we've gone from defunding Obamacare . . . to delaying Obamacare . . . to delaying parts of Obamacare . . . to funding the government piecemeal without touching Obamacare at all. If Republicans have already conceded the defunding of Obamacare, what's the point of keeping the government closed? Why on earth would the GOP pass "clean" bills to fund individual parts of the government but not the whole government?
Walter Macy, K-Mart, maybe the Gang that Couldn't Shoot Straight. As Obama aptly said, "All of this would be funny if it weren't so crazy."