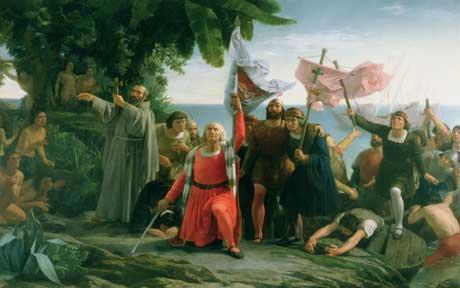 I always forget how exhausting the first week of class is. Here's a poem for comic relief, which came to mind as I was providing my survey class (18th and 19th century British and American Literature) with some historical background for the works we will be reading this semester. It was the last poem that my recently deceased father contributed to my parents' weekly poetry column in Sewanee's Mountain Messenger.
I hasten to add that my own students' grasp of history is far superior to that of the poem's speaker. The poem, written by Nixon Waterman in 1902, gives us a sense of the anecdotal way that American history used to be taught. It's written in the American dialect style of James Whitcomb Riley.
I note that there is an allusion to John Greenleaf Whittier's 1864 poem "Barbara Frietche," which I remember reading as a boy. I still recall the most famous line, delivered by Frietche to Stonewall Jackson as she lifts up an American flag in defiance of the Rebel forces: "'Shoot if you must this old gray head,/But spare your country's flag,' she said." (In Whittier's fantasy, Jackson experiences a "shade of sadness, a blush of shame" and orders his men to desist: "Who touches a hair of yon gray head/Dies like a dog! March on!" he said.)
Other poems I was required to memorize (in seventh grade) included Rosemary Benet's "When Nancy Hanks Came Back As a Ghost" (about Lincoln's mother, who died when he was young) and Whitman's "Oh Captain, My Captain." I suspect we also read a fair bit of Longfellow, like "The Midnight Ride of Paul Revere," given how much of him I have in my head. History is no longer taught through poetry, memorized or not, which is a shame.
Johnny's Hist'ry Lesson
By Nixon Waterman
I think, of all the things at school 

A boy has got to do, 

That studyin' hist'ry, as a rule, 

Is worst of all, don't you? 

Of dates there are an awful sight, 

An' though I study day an' night, 

There's only one I've got just right – 

That's fourteen ninety-two.
Columbus crossed the Delaware 

In fourteen ninety-two; 

We whipped the British, fair an' square, 

In fourteen ninety-two. 

At Concord an' at Lexington. 

We kept the redcoats on the run, 

While the band played Johnny Get Your Gun, 

In fourteen ninety-two.
Pat Henry, with his dyin' breath – 

In fourteen ninety-two – 

Said, "Gimme liberty or death!" 

In fourteen ninety-two. 

An' Barbara Frietchie, so 'tis said, 

Cried, "Shoot if you must this old, gray head, 

But I'd rather 'twould be your own instead!" 

In fourteen ninety-two.
The Pilgrims came to Plymouth Rock 

In fourteen ninety-two, 

An' the Indians standin' on the dock 

Asked, "What are you goin' to do?" 

An' they said, "We seek your harbor drear 

That our children's children's children dear 

May boast that their forefathers landed here 

In fourteen ninety-two."
Miss Pocahontas saved the life – 

In fourteen ninety-two – 

Of John Smith, an' became his wife 

In fourteen ninety-two. 

An' the Smith tribe started then an' there, 

An' now there are John Smiths ev'rywhere, 

But they didn't have any Smiths to spare 

In fourteen ninety-two.
Kentucky was settled by Daniel Boone 

In fourteen ninety-two, 

An' I think the cow jumped over the moon 

In fourteen ninety-two. 

Ben Franklin flew his kite so high 

He drew the lightnin' from the sky, 

An' Washington couldn't tell a lie,

In fourteen ninety-two.