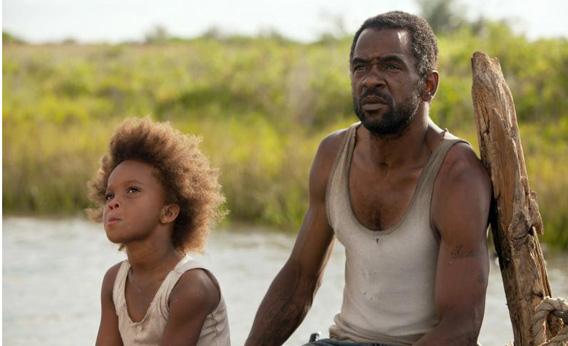 I fear that the remarkable Sundance film Beasts of the Southern Wild will prove predictive: global warming will wreak its wrath upon innocent communities, for whom the weather will appear like the onset of the apocalypse rather than the result of human decision.
In the film, a small backwater Louisiana community, calling itself "the Bathtub," is devastated by storms that render it uninhabitable. The catastrophe is mediated through the eyes of a small girl, Hushpuppy, who is in tune with her environment. As a result, we have the kind of parable about the desecration of innocence that we encounter in such films as Dances with Wolves, Avatar, and other such films.
The beasts of the apocalypse, who also function as Hushpuppy's fears, take the form of large prehistoric boars that she has heard about at school.  It's not exactly a coming-of-age story since Hushpuppy is too young for that. She is forced to grow up fast, but the real drama  is whether a young girl who has been taught to be tough can get in touch with her emotions.
While the film features images of melting glaciers, it is not a didactic film about climate change. Nevertheless, it captures vividly the sense that we are entering uncharted waters and will find our lives cataclysmically disrupted.