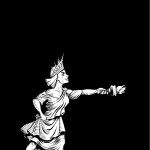 I preempt my regular "Film Friday" post to announce the publication of my new book How Beowulf Can Save America, which can be ordered by clicking on the cover illustration you see on the right. (A Kindle version will also be available at Amazon in a few weeks.) I thought I'd mark the occasion by borrowing from my preface to explain how the book came to be.
Last year, when reading over past posts on this blog, I noticed the numerous times I had turned toBeowulf to make sense of the political turmoil surrounding the Obama presidency. I commenced this blog several months into his term of office, and from the beginning I was appalled by the attacksgenerate inspire I was also upset at the way that moderate Republicans I respected were overwhelmed by a tidal wave of grief and rage.as regular readers of this blog know well, helpedresponses.
Although I am well aware of literature's applicability to modern life, even I was surprised by the extent to which Beowulf helped me chart the resentment, that drives so. In retrospect, however, it makes sense that Beowulf would have something important to say. onster stories are particularly powerful at capturing the chaos within.
At the suggestion of my son and publisher Darien, I embarked on a book that would explore whether Beowulf has answers for contemporary America. I can confidently say that it does.
At first I thought the book would be about overcoming our anger and rediscovering a 1950s sense of civility. As I burrowed into the monsters' relevance to our situation, however, I realized that our incivility is a symptom of the current state of affairs, not the cause. Aided by my novelist friend Rachel Kranz, I concluded that America today has a dragon problem not unrelated to medieval England's greedy king dilemma. If Americans find themselves possessed by monsters of resentment, sorrow, and despair, it is because we have contemporary dragons that are hoarding America's wealth. Beowulf, in other words, has alerted me to how the increasing disparity between the wealthy and the rest of the country is causing America to become more and more dysfunctional.
Fortunately, applying the poem to our situation has also alerted me to possible solutions, which I also outline in the book. Basically, I argue that the poem calls for us to exert a firm grip, ground ourselves in our country's foundational values, and work with others—especially with our young people—to promote the ideals of social and economic justice. If we do so, our democracy has a fighting chance.
The subtitle of the book is An Epic Hero's Guide to Defeating the Politics of Rage. I think of it as a handbook for modern day citizen warriors—or at least for those Americans who are open to the notion that a poem can have an impact on history. Seen in the light of contemporary politics, Beowulf's magnificent verse helps us understand what we are going through and shows us how we can create a better world.
Although I've been teaching Beowulf for over 30 years, I never cease to be astounded at its ability to inspire and galvanize me.