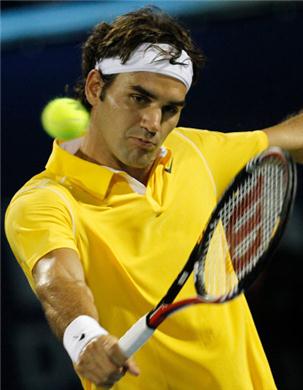 I am a tennis player who loves it when the game is played beautifully. I therefore ask readers to indulge me as I write my second post in two weeks about the man who I think plays the most beautiful game of tennis that the sport has ever seen. I am thinking, of course, of Roger Federer.
But so that fans of his archrival Rafael Nadal don't take offense, I have a nice compliment for him at the conclusion of today's post. Poet Adrienne Rich helps out.
I write about Federer again because this week he broke yet another record, and this is one that virtually no one predicted. When the Swiss maestro started losing regularly to Novak Djokovic, Nadal and even Andy Murray, he dropped to #3 in the world tennis rankings and few thought that he would make it back to #1. After all, he was over 30 and these other players seemed to have his number. This meant that his 285 weeks at #1 left him a frustrating week short of Pete Sampras's record of 286.
Federer systematically set out to reclaim the #1 ranking, however, playing in more tournaments than usual despite his (relatively) advanced age. When he defeated Murray two weeks ago in the Wimbledon finals, he reclaimed the top ranking and tied Sampras. This past Monday he reached 287.
To celebrate, I share a wonderful New York Times description written several years ago by novelist David Foster Wallace of a rally between Andre Agassi (my favorite player of all time) and a young Roger Federer. I was reminded of the article by a very clever New York Times piece by Touré where he imagines a tournament involving tennis writers. Let me detour through that article first.
In Touré's fantasy, essayist John McPhee is pitted against Vladimir Nabokov (the passage where Humbert Humbert plays tennis with Lolita) while novelist Martin Amis goes up against Wallace, author of the masterful tennis novel Infinite Jest. I was sorry that Touré omitted another couple of fine tennis writers—Abraham Verghese (for The Tennis Partner) and Anne Lamott (for Crooked Little Heart)—but perhaps he sees them getting eliminated in the quarterfinals. At any rate, he sees Wallace taking out Nabokov in the finals. Here's some of Wallace's tennis prose that has Touré swooning:
It's the finals of the 2005 U.S. Open, Federer serving to Andre Agassi early in the fourth set. There's a medium-long exchange of groundstrokes, one with the distinctive butterfly shape of today's power-baseline game, Federer and Agassi yanking each other from side to side, each trying to set up the baseline winner…until suddenly Agassi hits a hard heavy cross-court backhand that pulls Federer way out wide to his ad (=left) side, and Federer gets to it but slices the stretch backhand short, a couple feet past the service line, which of course is the sort of thing Agassi dines out on, and as Federer's scrambling to reverse and get back to center, Agassi's moving in to take the short ball on the rise, and he smacks it hard right back into the same ad corner, trying to wrong-foot Federer, which in fact he does — Federer's still near the corner but running toward the centerline, and the ball's heading to a point behind him now, where he just was, and there's no time to turn his body around, and Agassi's following the shot in to the net at an angle from the backhand side…and what Federer now does is somehow instantly reverse thrust and sort of skip backward three or four steps, impossibly fast, to hit a forehand out of his backhand corner, all his weight moving backward, and the forehand is a topspin screamer down the line past Agassi at net, who lunges for it but the ball's past him, and it flies straight down the sideline and lands exactly in the deuce corner of Agassi's side, a winner — Federer's still dancing backward as it lands. And there's that familiar little second of shocked silence from the New York crowd before it erupts, and John McEnroe with his color man's headset on TV says (mostly to himself, it sounds like), "How do you hit a winner from that position?" And he's right: given Agassi's position and world-class quickness, Federer had to send that ball down a two-inch pipe of space in order to pass him, which he did, moving backwards, with no setup time and none of his weight behind the shot. It was impossible. It was like something out of The Matrix. I don't know what-all sounds were involved, but my spouse says she hurried in and there was popcorn all over the couch and I was down on one knee and my eyeballs looked like novelty-shop eyeballs.
And later in the article:
A top athlete's beauty is next to impossible to describe directly. Or to evoke. Federer's forehand is a great liquid whip, his backhand a one-hander that he can drive flat, load with topspin, or slice — the slice with such snap that the ball turns shapes in the air and skids on the grass to maybe ankle height. His serve has world-class pace and a degree of placement and variety no one else comes close to; the service motion is lithe and uneccentric, distinctive (on TV) only in a certain eel-like all-body snap at the moment of impact. His anticipation and court sense are otherworldly, and his footwork is the best in the game — as a child, he was also a soccer prodigy. All this is true, and yet none of it really explains anything or evokes the experience of watching this man play. Of witnessing, firsthand, the beauty and genius of his game. You more have to come at the aesthetic stuff obliquely, to talk around it, or — as Aquinas did with his own ineffable subject — to try to define it in terms of what it is not.
And now props to Nadal, even though I normally root against him. But without a worthy antagonist to knock Federer off the hill—to, in fact, dominate him in head-to-head match-ups—we wouldn't be currently enjoying the golden age of men's tennis. Add Djokovic to the mix and we have a perfect rock-paper-scissors situation—the Serb is vulnerable to the Swiss who is vulnerable to the Spaniard who is vulnerable to the Serb.
Anyway, here's Geoff MacDonald of The New York Times drawing on poet Adrienne Rich to describe Nadal taking out Thomas Berdych in the 2010 Wimbledon final:
"A wild patience has taken me this far," is a line from the great American poet Adrienne Rich, and it perfectly describes how Rafael Nadal plays tennis. Watching his straight set win over Tomas Berdych, I was struck by how Nadal plays with unbridled energy and passion, but he's also calm and contained mentally. In his match with Murray in the semifinals, and again on Sunday against Berdych, there was a sense of inevitability to each match. The scores of each set were close, but you just knew that Rafa wouldn't get broken, and that at some point Murray and Berdych would blink.
At 4-5 in the third, Nadal raised the level of his game to break Berdych and win the match. He got up, love 30, by using his strong forehand, but Berdych battled back to get an ad. A deep backhand return pushed Berdych deep in his backhand corner, and Nadal rifled his next forehand for another down the line winner. At deuce, Berdych missed a short forehand long to give Rafa match point. Berdych attacked, but Nadal ripped a topspin crosscourt forehand passing shot for a winner. He then fell to the court in delight, celebrating his second Wimbledon title in three years.
So far in 2012, each of the big three have a Majors win—Djokovic the Australian, Nadal the French, and Federer Wimbledon—so maybe the U. S. Open will break the tie. Or maybe Murray will win in New York, thereby finally turning the "big 3 little 1" into "the big 4." And then, as a bonus, this year we get two Wimbledons, the second one as part of the Olympics. Federer is hungry for Olympic gold (he won the doubles in 2008 but not the singles) whereas Nadal will be defending his Olympic title. Anything could happen. For tennis fans, joy reigns supreme.