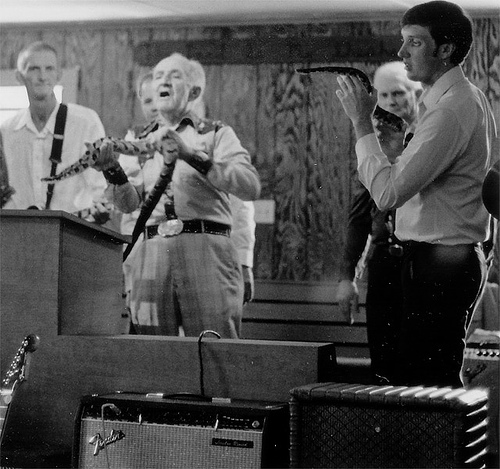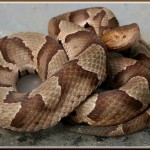 I haven't run a good environmental poem by my father for a while so here's one about West Virginia Pentecostal snake handlers, only this poem is told from the snake's point of view. Drawing on verses from Mark and Luke, the snake handling congregations believe that, if your faith is deep enough, you can handle poisonous serpents without being bitten.
Jesus's relevant passages are the following:
And these signs shall follow them that believe: In my name shall they cast out devils; they shall speak with new tongues. They shall take up serpents; and if they drink any deadly thing, it shall not hurt them; they shall lay hands on the sick, and they shall recover. (Mark 16:17-18)
And:
Behold, I give unto you power to tread on serpents and scorpions, and over all the power of the enemy: and nothing shall by any means hurt you. (Luke 10:19)
My father is a fervent animal lover (although he's got his doubts about the two-legged variety) and furthermore is skeptical of charismatic religion. He is particularly irritated when humans misuse animals for their own purposes. I believe he learned about the snake handlers from the documentary film The Holy Ghost People and wrote the poem in the 1970s. This poem allows him to vent a bit.
Another Scott Bates nature revenge fantasy can be found here, and I look at other instances of the genre, such as the movie Avatar and the "Letting in the Jungle" chapter from Kipling's Jungle Book, here.
Our family, unfortunately, knows something about snake bites: my mother was once bitten by a copperhead that had been stirred up by our dog. It took her months to recover.
I must apologize that this blog's formatting does not allow me to weave the poem down the screen like a snake, which is how it appears in my father's An ABC of Radical Ecology. But the snake's voice is so sassy and irreverent that I still wanted to share it. Imagine it undulating as you scroll down, like the Mouse's poem in Alice in Wonderland.
What happens in the poem, incidentally, often happens in real life as well: snake handlers get bitten and sometimes die.
S Is Also for a Somewhat Sardonic Serpent Slightly Less than Sympathetic to the Strictures of the Moral Majority 
By Scott Bates
Hell fire nobody
asked me did I
want to go to
Sunday meeting that
night they just up
and grabbed me by
the neck where I
couldn't get at 'em and
slammed me into
a stuffy old un-
comfortable 4×12 shoe
box that didn't have
half enough air to
keep an earthworm
alive much less a
good ol' boy Copper-
head like me (where
was you SPCA when I
needed you?) any-
how there I was feeling
away out of sorts and
ready to take on
anybody who
merely give me a
sidewise look (I
reckon they figured
I'd be half alive
and half asleep when
I come out of that
solitary confinement
they jailed me in and
normally it takes me a while
to get real riled up
but shoot I wasn't
feeling peaceful now
brother I was
jumpy as a hot wire and
mad as a yellow jacket
and getting madder by
the minute) so when
they finally got around
to my part of the pro-
ceedings after all their
jumping and shouting and
praying and hymn-singing and
carrying on like a
pack of hound dogs around
a cornered coon and when
the High Head Preacher he
finally opens up my
4×12 shoe box
Lordy man I
come out of there like
holy hell on handsprings with
boiling brimstone in my eye and
poison on my tongue
and before that Preacher Man
knew what hit him
Brothers and Sisters I bit him
hard
right in the Adam's Apple
I hit him where he
warbled
I done fixed his Apoca-
lypse
Hell
I knew damn well what
he was fixing to do with
lil ol demonic me he was
going to twist me around
in bowknots like a pretzel and
mumble crazy talk over me
and throw me around and
make like he was the
High Priest of the Sacred
Company of Copperheads or
something and brag
to everybody that he
was favored of God and
could take up serpents without
them chomping him and cast
out devils and drink cyanide
and I don't know what-
all foolishness out of Mark or Moses or
whatever he could find to
show off with before all them idiot
disciples of his who would of
been a-dancin' and a-jumpin'
and a-whoopin' and a'hollerin'
and a-clappin' of their hands
and a-yellin' Hallelujah
Lord God Almight and yodeling
the most godawful nonsense-
lingo you ever heard from
here to Vicksburg Well I'm
a-tellin' you buddy here's
one devil he didn't cast out
here's one serprent who wasn't about
to be used especially
in that goddamned
undignified
human way of theirs
Snakes has got
some rights too by
damn
(I also got
the hell out
fast down a
friendly neighborhood
rat hole and made it
back in a hurry to my
native timber and
my normal peaceable
pursuits what them
Bible people usually
refers to as "a-
lickin' my dust")
But I tell you one thing Mister
I got one good look
at their Chief
Medicine Man before I de-
parted and he was
the sorriest looking
mortal I ever did see he
was a-chokin' and a-splutterin'
fit to bust and a-grabbin' his
throat which was getting
bigger by the minute and he was
pale Lord he was paler
than a white oak tree in a
mountain fog you see he
figured his God had done
turned his back on him
and that he was a po sinner
for real and surely he was
damned to Hell and gone
That Preacher Man he was sick
and mercy me that did give
me a good deal of inner
satisfaction
There's one blow struck
for the cause of Snake
Liberation I says to myself
"Be ye therefore
wise as serpents
and harmless as
doves" says Matthew
Chapter Ten Verse Sixteen
Tuck that under
your Bible Belt good
buddy and di-
gest
it