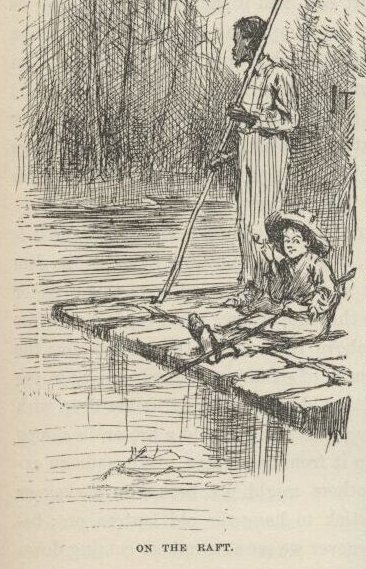 Carter Eskew and Ed Rogers are two Washington "insiders" who carry on a regular debate about the 2012 election in the Washington Post's on-line edition (I can't say "pages" anymore). Eskew is a Democrat, Rogers a Republican, and perhaps because they are constantly talking to each other, they are a little more objective than most avowedly partisan commentators.
Eskew recently summed up, in three paragraphs, Obama's strengths and weaknesses and why he should be elected over Romney. I quote him partly because he articulates my own views but even more because he quotes Huckleberry Finn:
Obama came to Washington with a naïve and perhaps arrogant view that his election had been transformative, and that he could work with Republicans.  But, on the stimulus, health care and the deficit, he quickly learned that Republicans' goal was to deny his legitimacy and his reelection.  Where I fault Obama is that he wasn't better able to govern around Republican intransigence. In some ways, he did. He got a stimulus bill, although less than he wanted, signed into law, and he got the health-care law. But he did not expend enough of his energy and rhetorical skills to move independent voters to his point of view, so his victories were seen as partisan.
On many of the big things, I believe, Obama has the winning political argument and the right policy. He has shown an understanding of the global economy, for which the United States must invest in education, basic and vocational, in bio-medical research and infrastructure. He understands the threat posed by the debt and has shown a willingness to buck his own party on entitlements. But his ability to consistently sell these positions to the American people with the same kind of relentless focus and discipline his campaign is known for seems to fail him in his presidency.
The good news, however, is that the Republicans and Romney may not have enough to beat him. Their economic plan, now 40 years old, consists mainly of redistributing wealth from the middle-class to the wealthy through tax cuts and of cutting regulations as an elixir for business. As Huck Finn said, "… I can't stand it. I been there before."
The Twain passage, as I'm sure you recognize, is from the final sentence:
But I reckon I got to light out for the Territory ahead of the rest, because Aunt Sally she's going to adopt me and sivilize me, and I can't stand it. I been there before.
After an adverse election, many Americans often fantasize about lighting out for some other country. Somehow Canada gets mentioned a lot, although I never understand why rightwingers invoke it since it offers a universal healthcare system that they have declared to be an anathema to freedom. In any event, it's interesting to see where the fantasy comes from.
That being said, Huckleberry Finn was published just eight years before Frederick Jackson Turner declared (in 1893) that there was no more American frontier and pondered the impact of this fact on America's sense of itself. From thence forward, Americans would have to deal with the "sivilization" that they lived in. It's important for us to acknowledge this, put aside Huck's fantasy, and grow up.