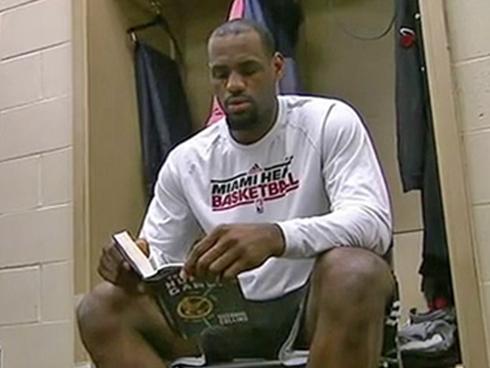 Sports Saturday
I was thrilled on Thursday to see LeBron James finally win a world championship. Or maybe I was more relieved than thrilled given the immense expectations that have been placed on him ever since he was in high school. Some of the soap opera can now come to an end, especially as he won the championship in a fashion that quieted all doubters, with one extraordinary game after another.
But there's something else that excites me about James. To avoid a repetition of last year's debacle in the finals when he underperformed and Miami lost to Dallas, apparently he turned to reading. If this year we saw a new no-nonsense LeBron, a Lebron who seemed less dependent on fan approval and knew who he was, it may be in part thanks to novels like The Hunger Games. The idea was suggested to me by sports writer and commentator Michael Wibon, who notes that LeBron has been reading a lot of late:
Surely, you've noticed the videotape of LeBron reading books before every game the past two months. Biographies, history, pop culture, best sellers, short books that explore human psychology, you name it. LeBron lying on the floor reading The Hunger Games. LeBron sitting at his locker reading The Pact, about three boys from challenging circumstances agreeing to finish college and attend medical school. It seems every time James was photographed before or after a game this spring, he was reading a book.
Wilbon learned that James turned to books as a refuge against outside pressure:
LeBron James decided before the playoffs he would be best served if he stopped watching hour after hour of sports on television, and got off the Internet, and stopped tweeting, and stopped reading Twitter. (We should all have such an intervention.) If he could shut off all the noise, LeBron wouldn't have to hear why he and his Miami teammates are such losers and play so poorly in the fourth quarter, and why if the Heat didn't win this year the team should be blown up.
So, LeBron figured, why not just read books to occupy his non-basketball time during the playoffs?
The Hunger Games is the one fictional work that Wilbon mentions, everything else being non-fiction. Here's why I think LeBron is attracted to Suzanne Collins's bestselling young adult novel and what it did for him. And why (according to a televised article leading up Thursday's game) he has recommended it to his teammates.
Hunger Games is about a dystopian future in which adolescents—12 boys and 12 girls from twelve districts—must engage in a televised kill-or-be-killed game of survival. Food is scarce and the heroine, Katniss, is from a poor coal mining community where everyone has to scrounge to get by. Katniss is a skilled poacher—she knows how to use a bow and arrow—and when her little sister's name is drawn in the annual lottery, Katniss volunteers to take her place. In the first novel in the series (the only one I've read), she emerges triumphant.
At first glance I thought the book might attract LeBron because it shows an individual overcoming adversity and surviving intense competition to come out on top. That is the plot of the other book that Wilbon mentions, The Pact, which is a non-fiction account of African American boys growing up in the slums of Newark who are determined to become doctors and who do. It is also the story of LeBron, who was born to a 16-year-old mother whose boyfriend was frequently in jail. LeBron spent some time in foster care.
But as I looked at the book through LeBron's eyes, I saw something else that he probably relates to. The hunger games are about more than surviving. To survive, one also must publicize oneself. The contestants are presented to a national television audience decked out in attention-grabbing outfits and are encouraged to come up with stories about themselves that will engage audiences. This is a life-or-death matter because, if they attract a following, people send in money so that the contestants' coaches, who are observing them, can parachute in precious resources like burn ointment, antibiotics, and food. Without some outside support, survival is all but impossible.
Isn't this the story of today's sports stars? LeBron has been thrust into the spotlight (the Miami Heat staged a particularly tacky introductory show after they signed LeBron and Chris Bosh), and Nike's search for a LeBron narrative has at times been over-the-top (including one ad where James is seen searching for a narrative). LeBron has been particularly sensitive to people's narratives about him. If he appears a hero, the love of the crowd feeds him, like parachute drops. If he appears a villain and people turn on him, life feels harsh and unfair. After last year's meltdown in the finals, LeBron blasted his haters, thereby increasing the pressure on himself.
Once Kantliss survives knife and spear-wielding antagonists, fireballs, deadly wasps, and mutant dogs, she then must deal with the celebrity that comes from winning. She concludes that the contest in the wilderness has been the easy part. I can imagine LeBron wanting to high five someone after reading that line. He too must feel that threading gracefully amongst ferocious 6'10″ shot blockers is the easy part of his job.
LeBron also undoubtedly relates to the fact that the contestants in Hunger Games have no privacy. Fitted with trackers that allow television audiences to watch them and hear everything they say, they learn how difficult it is to have genuine conversations. After all, everything that is said is said to two audiences.
This becomes a problem for Katniss when she develops a relationship with the boy from her district (Peeta), even though they know that sooner or later they may have to kill each other. Then the rules change—they learn that there can be two winners if they are both from the same district–so they join up. But while she feels affection for Peeta, who has long had a crush on her, Katniss is always aware that what she says to him is also being played to a national television audience hungry for a love story. Is she playing to them when she kisses him (so they'll send them more supplies) or is she doing it because she loves him? She's not sure.
James, who has said some remarkably frank things (this year he confessed to having been immature when he blasted his critics), must feel the same. Is what he's saying genuine or put on for audiences? Does he know?
He also must resonate to Hunger Games because of the way that the book captures his ambivalence about the system in which he operates. Even when she's being feted at the end, Katniss knows that she can't for a moment trust the game managers. For one thing, she has outwitted them—when they change the rules again and say there can only be a single winner–she and Peeta figure out a way to survive anyway. To do so, however, they have to use the leverage they have with the broader audience to get the managers to back down. The authorities hate Katniss for this.
Rather than attempt to kill each other, they threaten to commit joint suicide, which would leave the game with no winner. The threat is credible because Katniss has convinced audiences that she is genuinely in love with Peeta. It's like the NBA players threatening not to play by the owners' new rules (see last summer's game of chicken between owners and players). Katniss and Peeta have so captivated television audiences that the game keepers realize they are facing a public relations disaster, so they change the rules yet again and allow joint winners. Katniss knows, however, that she has put herself in jeopardy and therefore must continue demonstrating love for Peeta. Which may or may not be real.
To sum it all up, James must be drawn to Hunger Games because of how it shows contestants from poor backgrounds surviving, both "on the court" and in the system. They not only survive but survive with their dignity and their sense of agency intact. The system may seem to have more power than the stars but, in the book, the stars ultimately outwit the system.
Fiction powerfully provides us perspective on our dramas so that we don't have to remain trapped inside them. Perhaps Hunger Games confirms for LeBron that he too controls his own destiny. I can see how that awareness changed his mindset for this year's playoffs.
Previous Posts on LeBron James
Bulls vs. Heat, a Homeric Battle
James as Telemachus to Wade's Odysseus
Epic Poetry, King James Version