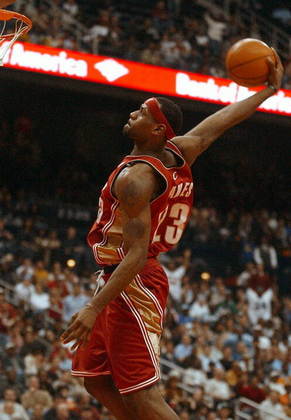 Saturday – Something Light
After posting Wilt Chamberlain type numbers to stave off elimination against the Boston Celtics (45 points, 15 rebounds, and 5 assists) and routinely scoring 30+ points in the last few playoff games, LeBron James appears finally to be living up to his self-proclaimed nickname "King James." I thought therefore I'd have some fun exploring the applicability of that name since it has a literary source.
"King James" would not have punch if it were merely a reference to James I or James II of England or to Jameses I-VI of Scotland. James I (previously the Scottish king James VI) was such a bad king that a modern historian, after having completed a biography on him, sighed, "At last I'm done with that execrable man" (or words to that effect). James II, meanwhile, was so incompetent that he managed to have an entire kingdom unite against him and throw him out (in the "Glorious Revolution" of 1688).
"King James" captures the imagination because it conjures up the King James Bible, one of James I's few accomplishments. The project took eight years, involved 48 skilled translators, and produced prose that, in the opinion of Victorian hymn writer F. W. Faber, "lives on the ear, like music that can never be forgotten, like the sound of church bells."
The King James version was composed during the age of Shakespeare when the culture was in love with rich language, and the translators deliberately used archaisms rather than current idioms (as did Edmund Spenser in The Faerie Queene). As a result, contemporary versions can sound bloodless in comparison. I mourn how Elijah now hears (according to the New International Version) "a gentle whisper" instead of "God's still small voice" and how St. Paul sees "only a reflection as in a mirror" rather than "through a glass darkly." King David no longer says, "Thou preparest a table before me in the presence of mine enemies: thou hast anointed my head with oil; my cup runneth over."
But back to LeBron. Like the King James Bible, it took eight years and skilled collaborators to put him on a team that would succeed, and now that he is on center stage, he is producing astounding moments that linger in the mind long after the play is over. I'm still marveling over a steal against the Celtics, produced at a dead run, where, to elude the final defender, he passed to teammate Dwyane Wade and then was soaring through the air to receive Wade's tip return pass and dunk it home.
James now plays with authority, with power, and with poetry. He is a wrathful presence on the defensive end, as Boston's Rajon Rondo discovered when he tried a fast break lay-up, only to encounter James soaring through the air to deposit both the ball and him amongst the spectators. Yet (to quote the Elijah passage again), James doesn't only operate out of fire and whirlwind—he can have a surprisingly still small touch when the occasion calls for it. At present, having just won his third Most Valuable Player trophy, he is king of basketball kings as he attempts to take his team to the promised land.
There's a chance that, like Moses, he won't arrive there. The Oklahoma Thunder have a remarkable star in Kevin Durant and their bench is deeper and more youthful. Durant dazzles but in a less colorful way. He is an unassuming player in the Tim Duncan mode who is proving to be a more accurate shooter than King James. So let's call him the New International Version. That's the version that is prevailing these days.