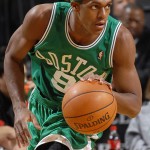 This past Wednesday I saw a performance by Celtics player Rajon Rondo that still has me shaking my head in wonder. The 6'1" point guard played all 53 minutes of the game (48 minutes of regular time plus five minutes of overtime) and scored 44 points, dished out 10 assists, and had 8 rebounds. All in a losing cause.
To think of a literary narrative that captures some of the drama I witnessed, Jane Porter's 1810 novel The Scottish Chiefs comes to mind. After all, it celebrates Celtic warriors fighting against insurmountable odds, being temporarily successful, and then, through betrayal (I'll explain that in a minute), experiencing defeat.
The Scottish Chiefs is about William Wallace fighting the English of Edward I in the 13th century. Wallace manages to pull off some remarkable victories early in the campaign, most notably the Battle of Stirling Bridge, but in the end is betrayed by fellow Scots and is turned over to the English, who brutally execute him for high treason.
So how does this fit with what Boston did Wednesday night? First of all, the Celtics were far outmanned. The Miami Heat, led by King James (name taken from an English king) and Dwyane Wade, have assembled a seemingly unbeatable team that comes at you in waves. The Celtics, meanwhile, are aging and hobbled and cannot attack the rim in a full frontal assault. Instead, like Wallace's guerilla warriors, they have to attack from the perimeter, settling for jumpers. This means that they regularly get outrebounded and gather in far fewer rebounds.
And yet, thanks to Rondo, they gummed up the Heats' attack while inflicting lethal wounds from unexpected places (Rondo is not normally known for his accurate shooting). As a result, they  took the Heat to overtime and almost won. Perhaps they would have been victorious had it not been for one egregious non-call.
Rondo, playing spectacularly in overtime even though he hadn't rested for the entire game, drove to the basket (no one else on his team could) and scooped up a shot with the scored tied and just over a minute to go. Trying to block it, Wade hit him in the head in what should have been a two-shot shooting foul. But the referees either missed the foul or ignored it, Rondo went to the ground, and the Heat had a 5-4 counter attack, which concluded with an easy lay-up. Given that Rondo probably would have converted both free throws, his team should have been up by two. The blown call—what I'm calling the betrayal—resulted in a four-point swing against the Celtics.
"Scots wha' hae wi' Wallace bled, welcome tae yer gory bed," Robert Burns writes. The Celtics, down 2-0, saw Rondo do everything possible Wednesday night and still came up short. Their chances of beating Miami look to be no better than Wallace's against the English. Their consolation–what made The Scottish Chiefs an inspiring read when I encountered it at 14–is that they went down in glorious fashion.