Spiritual Sunday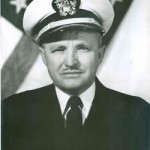 Yesterday I attended the funeral services of an old friend, John LeRoy, who for years was our church's senior warden and who coached my kids in their acolyte duty.  John was in the Navy during World War II and, I believe, had both a plane and a ship go down under him.  He was also deck commander for an aircraft carrier—which I jokingly thought made him the perfect person to oversee children reporting for acolyte duty  with a minute or two to spare.  We would be frantically pulling on cassocks and lighting candles and all the rest, and yet John was always calm and always made our boys feel respected.
I remember saying to our rector Bill Pregnall how remarkable John was in this regard.  Bill replied that anyone who had ended up in the Pacific twice probably could keep his cool around a Sunday morning service. Those memories came back to me as I sat in the church service.
In John's honor, I post the beautiful and very nautical poem that Alfred, Lord Tennyson wrote as he contemplated his own death.  I follow it up with a nice poem, also with a nautical theme, that my wife Julia wrote for John.
Crossing the Bar
By Alfred, Lord Tennyson
Sunset and evening star,
And one clear call for me!
And may there be no moaning of the bar,
When I put out to sea.
But such a tide as moving seems asleep,
Too full for sound and foam,
When that which drew from out the boundless deep
Turns again home!
Twilight and evening bell,
And after that the dark!
And may there be no sadness of farewell,
When I embark;
For though from out our bourn of Time and Place
The flood may bear me far,
I hope to see my Pilot face to face
When I have crost the bar.
I love the way that Tennyson shows the stages of dying and makes them sound peaceful: first twilight and then the dark, with the evening ball noting the moment of death.
One note on Julia's poem, which Julia wrote two years ago.  John, who was 92 at the time, was dying and had entered hospice so we had a special pre-funeral service for him–which is Tom Sawyer's fantasy and also the subject of the Robert Duval film Get Low. But when Julia notes that "he is impatient to be going," I should add that he wasn't that impatient because he ended up graduating from hospice and living another two years. He lived in Tennyson's twilight state during that time.
Our church and cemetery are on the banks of the St. Mary's River, which we looked at yesterday as taps was played over John's casket.  This is the river that also took our oldest son, and I suspect that memories of Justin enter into Julia's poem.
The Tide Is Running Out
By Julia Bates
The tide is running out
Following the pull of the moon
We on the pier watch
As he readies his craft
Checking sail and rudder
He looks back at us and waves
We've served under him
Through war and peace
Our hearts trembling
From noise and strife
But he's been through it all
Time and again
Nearly lost then recovered
Lost and recovered
He taught us that rhythm
Of hope and grief
Determination and resignation
In the face of duty
The call of ultimate orders
For he was charged to
Make good sailors of us all
In spite of ourselves
We learned to stand to orders
To pitch together
To dress sharp and carry
The colors
To lead as he has led
Look now he raises
His hand to salute us
We each must take this
Final command
To some future still over the horizon
The tide is running out
He is impatient to be going
We toss him the ropes
The final ties that hold him back
He seats himself and begins to row
Pulling away
His one sail filling
We watch until he disappears
And walk silently up
The hard packed riddled sand
The gifts of shells driftwood sea glass
We take some small token
To carry in our pockets
Until we too
Must fit our small dinghies
Take our bearings
And follow that lone star
Away and away