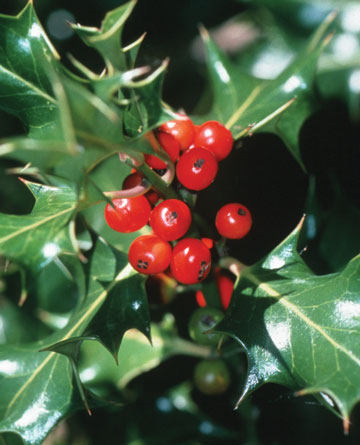 Spiritual Sunday – Christmas
A popular Christmas carol is "The Holly and the Ivy," which manages to intertwine pagan nature images with Christian symbols.  The holly is traditionally seen as female (in the carol it stands in for the Virgin Mary), the ivy as male, and together they play out a celebration of life in a season of death that is in perfect accord with both the Christian nativity drama and pagan winter solstice rituals.
Here's the stanza that opens and closes the song:
The holly and the ivy
Now both are full well grown,
Of all the trees that are in the wood,
The holly bears the crown.
O the rising of the sun
And the running of the deer
The playing of the merry organ
Sweet singing of the choir
In his own poem inspired by the carol, my father stirs some other traditions into the mix: Greek and Roman mythology (Artemis/Diana and Bacchus/Dionysus), Gnosticism (he quotes from the apocryphal gospel The Acts of John, which has a dancing Jesus), and Celtic paganism (mother goddess Jenny Wren).  Spirit refuses to be denied in the darkest time of the year and finds voice in a range of religious symbols.
Enjoy the poem.  And Merry Christmas.
"To the Universe belongs the dancer." –words of Jesus in the The Acts of John
Dance of the Holly and the Ivy
By Scott Bates
At Christmastide
In our wintry wood,
Dame Holle and
Sir Ivy Goode
Dance an
Ancient antiphon
As Jesus danced
In The Acts of John.
To fete the Rising
Of the Sun
And the Coming
Of the God of Wine . . . .
With Diane, Goddess
Of the Moon,
And Jenny Wren,
The Fairy Queen.
Moving in the
Winter wind,
Engarlanded
With ivy vine
And drops of
Hollyberry blood,
In the moonlight
in the dark greenwood,
They dance to the
Music of the moon
In our quiet wood
Before the dawn.