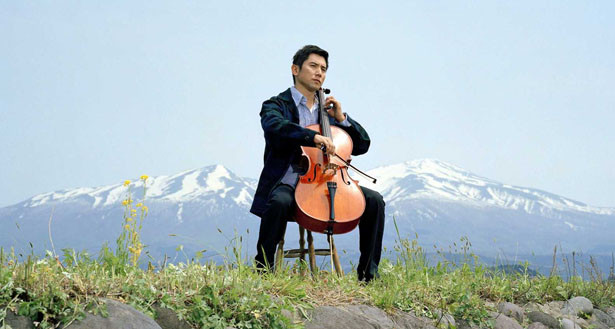 Film Friday
This past week two dissimilar works, unexpectedly brought together in my life, reaffirmed for me the power of Christmas celebrations. Comparing them provides interesting insights into why Christmas is such an important holiday.
One of the works was the Oscar-winning Japanese film Departures.  The other was Sir Gawain and the Green Knight. I showed the first in my "Funerals in the Movies" film series this past Tuesday. I have been grading student essays about the second.
I give an extended analysis of Departures in a past post and will try not to repeat myself too much.This story about a young man who ritually prepares bodies for cremation is a powerful affirmation of the power of life in the face of death.  So is the medieval Arthurian romance.
There's a Christmas scene in Departures where Daigo, the young man, is eating fried chicken at the office with his two co-workers.  He is alone because his wife, disgusted by his job, has left him.  The three ravenously devour piece after piece, dropping the bones in a bowl, as a heavy snow falls outside. For people who live daily with death, life has become particularly precious.
This is the lesson that the Green Knight wants to teach Gawain. This figure from Celtic lore, a representation of our lust for life, shows up at Camelot's Christmas feast. His message: King Arthur's knights are skirting life rather than plunging into it. We later learn that Morgan Le Faye  has sent him because she thinks Camelot pridefully imagines it can rise above the demands of the body.
In Departures, Daigo finds himself strangely drawn to a despised profession, even though he is condemned for his choice and almost loses his wife over it.  He can't tell why he is so attracted—he just knows that he must do it. In one significant scene, he stands upon a bridge and watches the salmon struggling to make it back to their breeding grounds. Meanwhile the bodies of other salmon, having laid their eggs and died, float back down river. "They want to return home," an old man says to Daigo's query about their motivations.
The bridge itself represents a hero's threshold passage (to invoke Joseph Campbell). At one point Daigo is standing on this bridge and crying out in anguish, "Why am I doing this?" To which Sasaki, his employer, replies, "It's fate."
The film is filled with images of the four elements as if to emphasize how fundamental are the issues Daigo is dealing with. One sees earthen fields populated by wild swans who continually leave and return. (Birds are traditionally seen as emissaries between this world and the next.) Daigo takes ritual baths, heated with firewood, upon returning from work each day, and the bodies he prepares are then placed in a crematorium to be burned.
Sir Gawain and the Green Knight is also filled with powerful images of nature, and Gawain too knows that he must travel on a quest to meet up with the Green Knight, even though his fellow knights, like Daigo's wife, try to dissuade him. Both men must overcome obstacles. For Daigo, is it is loss of his wife and a particularly ugly funeral where the family members turn on each other and then on him. For Gawain, it is the wintry terrain and attacks by wild animals and savage men, metaphors for his own inner doubts.
Daigo's first encounter with death is a particularly grotesque one: the body of a woman found in her apartment two weeks after she has died sends Daigo into a gagging fit, yet he returns to work the next day. In Sir Gawain and the Green Knight, we are shown graphic depictions of animals being hunted, killed, and then sliced up. This is the future that awaits Gawain, but the Green Knight shows him the corpses, not to frighten him, but to demonstrate how important it is to embrace life.
There is a point where Daigo ascends to Sasaki's office to tell him that he is quitting. He finds his employer in a room filled with plants eating a deliciously prepared pufferfish.  "The living feast on the dead," Sasaki tells him and then, "You must live well." Indeed, there are many eating scenes in the film, many coming immediately following funerals.
The words resonate with Daigo and, in the montage of scenes that follow, we see him attending a series of life-affirming funerals alternating with shots of him passionately playing his cello. He is beginning to find the meaning of life.
Gawain also is on the point of despair as he is journeying through the forest.  When he prays to the Virgin Mary for guidance, he is presented with the Green Knight's castle, in which there is sumptuous feasting. The world outside may involve cold weather and brutal hunts, but in here is an animal warmth which, if he chooses, he can embrace.
In the face of death, Daigo learns to embrace life. His symbolically pregnant wife learns to honor what he is doing and Daigo is able to fill a hole in his heart by ritually reconnecting with the father who abandoned him as a child. Whether Gawain has a similar breakthrough is unclear.
Gawain seems to indicate his will to live by accepting a green girdle (supposedly it will save his life) from the lady of the castle. But unlike Daigo,who passionately makes love to his wife after dealing with the weeks-old body, Gawain can never bring himself to make love to the Lady of the Castle, even though she offers him her body. Then, when the Green Knight points out that he is wearing the green girdle, Gawain is filled with self loathing. He is not consoled by the knight's reassurance that he took it to save his life so "the less, then, to blame."
As I drive around our county and observe the spectacular displays of lights that people have mounted, I see the basic urge to respond to the darkest time of the year with an affirmation of hope. Our desire to make Christmas cookies, to serve lavish feasts, to give presents, are all assertions that we believe in plenitude, even though the weather outside is frightful and points to austerity. There's a reason why the Christian Church chose to celebrate the birth of Christ, the light of the world, at the darkest time of year.  (What, you thought that the Romans had people to come to Bethlehem to pay their taxes at the end of December?)
Most wouldn't categorize Departures as a Christmas story or Sir Gawain and the Green Knight either. But all the Christmas themes can be found in both.