Many in this country have been in shock over the past couple of days after learning that one of the country's most respected football programs is under fire for having harbored and covered up for a child molester. Joe Paterno at Penn State has been revered for his long tenure as a successful coach at a clean program. Now it appears that he and others were criminally negligent, or close to it, when they failed to heed warnings that one of his close associates, Jerry Sandusky, was raping young boys. [News update: Paterno has just been fired and the president of the university has stepped down.]
I had been planning to devote today's post to a recent campus visitor who speaks to and studies human monsters, and suddenly the two subjects dovetail. Literature's power to engage with human monstrosity will also be part of my reflection.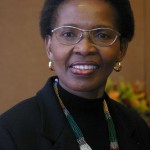 Pumla Gobodo-Madikizela is a member of the South African Truth and Reconciliation Commission. We assigned her book, Someone Died That Night, to all our entering first year students, who had a chance to read about her encounters with the imprisoned Eugene de Kock.  De Kock, known as "Prime Evil," was commanding officer of apartheid's state-sanctioned death squads.
But Gobodo-Madikizela, who is a psychologist, doesn't only study white monsters. Currently she is interviewing and studying black South African youths that were involved in "necklacing" informers.  Necklacing involved putting car tires around these individuals as they lay bound and setting them on fire. In short,
Professor Gobodo-Madikizela ventures directly into the heart of human darkness.
Gobodo-Madikizela talked about how such people are encased in a shell of monstrosity but how sometimes a monster's shell can be cracked by getting him or her to experience empathy. Indeed, feeling empathy may be the first step to feeling remorse. Gobodo-Madikizela saw the process first hand with de Kock, and this has led her to conclude that it may be more important to focus on empathy than apology.
[Elizabeth Applegate, a colleague of mine in the French Department who studies Rwanda, agrees--there, she says, "exhorted" apologies, which can result in a reduction of penalties, are often insincere. On the other hand, another colleague in the philosophy department, Barrett Emerick, studies apology and says that sometimes saying the words can change the mindset, even if the apology is initially insincere.]
The South African psychologist also talked about how critical it is for people to develop a "moral imagination" as a bulwark against monstrosity. When she said that, I thought of literature's role in that process.
Literature, after all, invites us into the minds of others, and sometimes these others are not very sympathetic. By seeing the Other's viewpoint, skewed though it may be, we are less likely to dehumanize–and dehumanization is the essential element of monstrosity. Monsters are monsters precisely because they deny humanity, both their own and that of others.
Not that monsters can be necessarily saved by literature. Virginia Tech killer Seung Hui Cho took creative writing courses, and Jared Loughner posted his list of favorite books on his website. (See my post on that here.) Their own moral imaginations were severely deficient, and it will be interesting to see whether Loughner will be able to move past his monstrosity while in prison. But literature at least makes an attempt to get people to see clear.
Furthermore, it is not only monsters that need to be humanized. Sometimes we can become monstrous ourselves in response to monstrosity. In our revulsion we ourselves are in danger of denying their humanity, buried deep though it may be.
A passage in Dr. Jeckyll and Mr. Hyde graphically captures the danger as we watch Hyde's encounter with a little girl.  What interests me here is that Hyde, who is the lurking monster within the humane Jeckyll, manages to bring out the "Hyde" in everyone who witnesses his casual brutality:
All at once, I saw two figures: one a little man who was stumping along eastward at a good walk, and the other a girl of maybe eight or ten who was running as hard as she was able down a cross street. Well, sir, the two ran into one another naturally enough at the corner; and then came the horrible part of the thing; for the man trampled calmly over the child's body and left her screaming on the ground. It sounds nothing to hear, but it was hellish to see. It wasn't like a man; it was like some damned Juggernaut. I gave a few halloa, took to my heels, collared my gentleman, and brought him back to where there was already quite a group about the screaming child. He was perfectly cool and made no resistance, but gave me one look, so ugly that it brought out the sweat on me like running. The people who had turned out were the girl's own family; and pretty soon, the doctor, for whom she had been sent put in his appearance. Well, the child was not much the worse, more frightened, according to the Sawbones; and there you might have supposed would be an end to it. But there was one curious circumstance. I had taken a loathing to my gentleman at first sight. So had the child's family, which was only natural. But the doctor's case was what struck me. He was the usual cut and dry apothecary, of no particular age and color, with a strong Edinburgh accent and about as emotional as a bagpipe. Well, sir, he was like the rest of us; every time he looked at my prisoner, I saw that Sawbones turn sick and white with desire to kill him. I knew what was in his mind, just as he knew what was in mine; and killing being out of the question, we did the next best. We told the man we could and would make such a scandal out of this as should make his name stink from one end of London to the other. If he had any friends or any credit, we undertook that he should lose them. And all the time, as we were pitching it in red hot, we were keeping the women off him as best we could for they were as wild as harpies. I never saw a circle of such hateful faces . . .
Literature can help us resist the monstrosity that "hides" within us. We can learn about pedophiles, for instance, by reading Lolita, which takes us within their mania. Understanding, of course, is not the same thing as letting them go free. If the charges against Sandusky are true, he should be locked up for a long time. But we don't ourselves want to become harpies who are "sick and white with [the] desire to kill."