A headline in yesterday's Washington Post captured the mixture of marvelous and strange in the story: "St. Mary's College to put students displaced by mold on a cruise ship."
For reasons that I'll explain in a moment, it's a brilliant solution to a serious problem that our college is experiencing at the moment, and someone should be applauded for creative outside-the-box thinking. There's at least a possibility that an outside-the-box college production of Shakespeare's As You Like It played a role in the decision.
I explained our situation in Monday's post. When we had to close down two residence halls for systemic mold last week, the students were dispersed to motels around our very rural county, some as far away as 30+ minutes.  Shuttle buses were set up to convey them back and forth.
Transportation has proved to be a logistical nightmare.  Some students were reporting waits of an hour or more, and an accident up the road meant that several students walked into my survey class late yesterday.  Meanwhile, President Joe Urgo was very concerned at the toll the situation was taking on our sense of community. After all, most of those affected were impressionable first year students.
A nautical solution made sense because our college has a long history with the water. St. Mary's City was the first capital of Maryland (from 1634-1695) in part because the St. Mary's River is very deep, allowing access to large boats. For much of the school's early history (a girls seminary was established here in 1840), students were brought to campus by steamer. The historic part of our campus looks towards the river, not toward the road that everyone now uses to get there.
The cruise ship costs $20,000 a day so our college's contingency fund is taking a terrible hit. But that apparently is what motels, transportation, and related costs were costing us so it's an even trade financially. With the new solution, the students will be only ten minutes from their classes.  Many of them (although not all) are excited by the idea of living on board.
And now for As Your Like It. Our Theatre Department's Michael Tolaydo rather brilliantly set the play in the 1960's. Thus, the Forest of Arden became the an idyllic countercultural refuge (although not entirely idyllic) from an oppressive society. At one point, the production got the audience to sing, "We all live in a yellow submarine."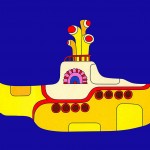 President Urgo saw the production a few days before he made the decision to go for the boat. Never underestimate how literature can shape our lives.
Or maybe the production had nothing to do with the solution In any event, as the popularity of the Beatles song demonstrates, there is something magical about a world in which "all our friends are all aboard, many more of them, live next door." I started thinking of stories of communities living together in such settings.  Some promise success in the endeavor, others not.
Moby Dick promises well if you ignore the fact that the ship gets sunk at the end.  After all, Ishmael and Queequeg are great roommates.  Katherine Anne Porter's Ship of Fools, on the other hand, describes the empty lives of the passengers on board and hints as the Nazi Holocaust to come.  Jules Verne's 2000 Leagues under the Sea, comes to mind: but the captain, while well educated, is crazy.  And then (although it's not about a boat) Roald Dahl's James and the Giant Peach should be mentioned, a glorious adventure with strange insect friends.
I often tell my students that college is a journey. Now we have a particularly graphic image of it as one.
Update – After querying the president about the influence of the play, I received the following e-mail: "Brilliant blog post on the cruise ship! I've lived with Yellow Submarine in my head for forty years or so, and it's no doubt at all to me that its rekindling in Monty [our theater] earlier this month led to our current situation."