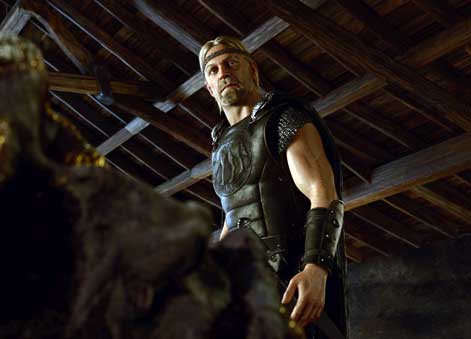 In recent months, President Obama has been under intense attack from various liberals for what they see as his failures of leadership.  Maureen Dowd of the New York Times has been particularly harsh.  I therefore decided to test the president according to the Beowulf scale.  He does he compare to the Geat warrior and king who is able to slay three fearsome monsters that are ravaging the countryside?
My conclusion is that Obama scores surprisingly well.
Comparing Obama with Beowulf may seem at first a mismatch since Beowulf enters the scene beating his chest  and proclaiming his greatness whereas Obama has become known (and is often criticized for) "leading from behind."  Beowulf doesn't seem to be a "lead from behind" type of guy.
But there's more subtlety in Beowulf's approach than at first appears—and perhaps more steel in Obama's. First of all, Beowulf, like Obama, tends to size up situations before acting upon them.  Note his approach to Unferth, the Dane warrior who takes umbrage at the brash young warrior entering the scene and claiming that he can change things.  Here's how Beowulf responds to Unferth's taunts:
–He assesses the situation and factors in the fact that Unferth has been drinking
–He's done his homework and knows that Unferth has a past history of killing kinsmen
–He responds to Unferth's misinformation with a straight account of the truth
–He points out to all that people like Unferth have failed to solve the country's problems
–He does this in such a clear and confident way that the country feels hope again for the first time in years
Let's say that the set-to with Unferth is a description of Obama's presidential campaign. In fact, another parallel would be the way that the young Geat warrior, against the counsels of his king (Democratic Party stalwarts), persuades a collection of Geat warriors to accompany him on a seemingly foolhardy mission.  Then, once in Denmark, Beowulf convinces King Hrothgar, as Obama convinces the electorate, to entrust him with the Grendel problem—which is to say (as I interpreted Grendel in a post last week), with the problem of internecine rivalries that are tearing the country apart.
Once Beowulf has been put in charge of the problem, he proceeds in a way that supports Obama's approach.
First of all, Beowulf chooses not to fight fire with fire.  The impulse of his men, when confronted with Grendel, is to hack away with swords.  That's like responding to partisan attacks with partisan attacks of your own. It's an understandable urge.  Given all the vitriol that has been poured out by members of the Tea Party, it's understandable why AfricanAmerican Congresswoman Maxine Waters would blow up and tell the Tea Party to go to hell. She has felt under siege from Grendel fury for a long time and is returning fire.
But there's a problem, as both Beowulf and Obama understand, to responding with swords, whether actual or verbal. Slashing away can't tend Grendel's skin.  In fact, Grendel polarization only grows more fierce and bitter when you hack away.
Instead, Beowulf, as he does with Unferth, assesses the situation.  He doesn't make the first move but watches how Grendel operates.  Then, when Grendel attacks, Beowulf reaches out his hand.
His gesture shows firmness of resolve. The battle is more mental than it is physical.  Beowulf demonstrates that he has confidence in his own strength.
In the end it is Beowulf, not bloody rivalry, that prevails. Beowulf doesn't kill Grendel.  Rather, the monster disintegrates in his grip. It is another version of the image I wrote about when I compared Obama to the shadow warrior in the Kurosawa film Kagemusha: he must be a mountain, even when people around him are panicking and dying.
Currently liberals are panicking at what they see as their weak president.  But they should take a look at how the Right sees Obama. Somehow, in conservative eyes, Obama seems to check them at every turn in ways that appear Machiavellian.  Vulnerable though the president may seem, like Beowulf he seems to have the ability to get potential Republican presidential candidates to self-destruct. Rick Perry is the latest example.
I do believe that there are things that Obama could learn from Beowulf. Just as Beowulf is able to use his powerful rhetoric to impress the Danes, so Obama may need to turn more to his own rhetorical skills. But that being said, it's not Beowulf's words that carry the day.  It's his inner strength.
And here's another lesson. If, as Dowd and others believe,Obama is naïve when he thinks that concessions will bring about peace, then he may make a mistake that King Hrothgar makes. The Danish king thinks that he can patch up a blood feud with Ingeld, king of the Heatho-Bards, by giving him his daughter Freawaru. Beowulf says that Hrothgar is kidding himself and that it is only a matter of time before this false peace erupts in bloodshed. Likewise, the epic also shows us that a false peace between the Dane Hengest and the Jute Finn concludes in bloodshed.
So Obama has to be as smart and pragmatic as Beowulf and not give himself over to phony solutions or unstable alliances.  Then again, maybe he knows what he's doing as he negotiates with the Republicans. I think the jury is still out on that.
I would counsel disheartened Obama supporters to resist the urge to panic.  I know you're anxious and want to lash out with swords as your Grendel fears come bearing down on you. But, like Beowulf, take a step back and coolly assess your president. He may be doing a better job than you think.
Go here to subscribe to the weekly newsletter summarizing the week's posts. Your e-mail address will be kept confidential.