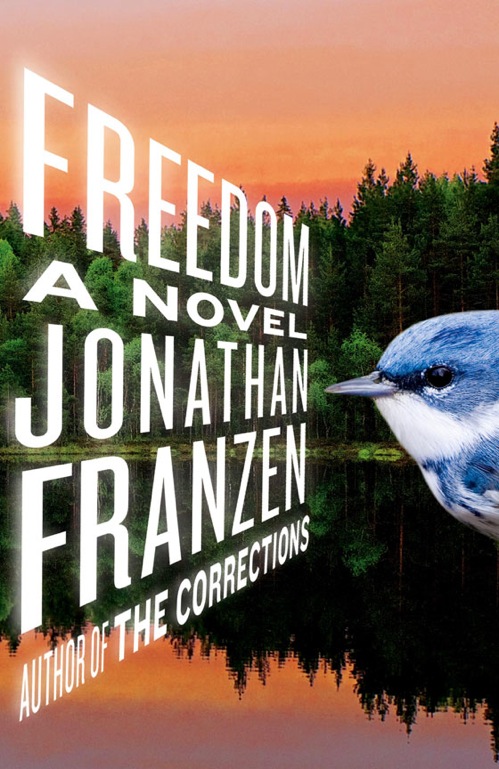 When my book discussion group discussed Jonathan Franzen's much celebrated novel Freedom last week, they all had the same response: they hated it. I myself was mixed about the book so their reaction caught me off guard.
The book is written in the John Cheever-John Updike-Tom Wolfe-Don DeLillo tradition as an up-close look at American middle class culture.  We follow the fortunes of a suburban Minneapolis family through the past forty or fifty years of American history.
The word "freedom" is loosely thrown around and Franzen often seems to be making the point that, while Americans may have a lot of freedom, they are not making very good use of it. The mother in the family breaks free of her suffocating family and her son breaks free both his parents while fairly young, even though they are hardly tyrannical.  He also breaks free from ethical behavior, getting involved in a corrupt arms shipment deal, and so does his liberal father, selling out to coal companies in a desire to advance his own ecological cause (overpopulation).
Freedom, in fact, is often just another word for irresponsibility in the book. Businesses are free to devastate the environment, most notably through mountaintop removal, and on a smaller level cat owners feel it is literally their God-given right to let their cats run free, even though they decimate the local bird population. ("God gave this world to human beings, and that's the end of the story as far as I'm concerned," self-righteous Linda says.)
Given that I was reading the book while the Republicans were playing chicken on the debt ceiling—we are free to hold a gun to your head, some were all but saying, because we're free of governing responsibility and don't care if the country defaults—I could see why many people like the book.  It often seems to capture the libertarian anarchy that people are engaging in.
Back when I was in college, I remember hearing calls for anarchistic freedom, but it came from groups like the Yippies. (Abbie Hoffman's Steal This Book comes to mind.) Though my politics were leftist, I didn't like these people and remember feeling relieved that there were grown-ups in Congress.  Who knew that the Yippie impulse would emerge on the right, with Tea Party Republicans determining the agenda of the House of Representatives and wielding a fair amount of control over Republicans in the Senate?
So back to why my group didn't like the book.  Those in attendance, all of whom are older than I am, are the bedrock of our community.  Often without calling attention to themselves or demanding any credit, they make our institutions run (like our libraries), they support those in need, they make the world a better place.  For the most part, people like them don't show up in the book.  Franzen's America is defined only by dysfunction.
But one of the book group members noted that her children like the book and I know that my own daughter-in-law loved Franzen's previous book The Corrections. So I'm wondering if the older generation reacts against Franzen's grim vision of today's society whereas younger people see this simply as the reality they inhabit.
Bleak though Franzen's book may be, I did see one glimmer of light, with liberals and Tea Party types reaching a kind of truce. In one episode, a devoted bird watcher and environmentalist is pitted against the Christian fundamentalist owner of the bird-killing cat. Here's how the cat owner thinks:
Walter seemed to her like one of those big-government liberals who wanted to hand out condoms in the schools and take away people's guns and force every citizen to carry a national identity card.  She was inspired to ask whether the birds on his property belonged to him, and if not, what business of his it was if her Bobby enjoyed hunting them.  Walter replied with some bureaucratese about the North American Migratory Bird Treaty Act, which supposedly prohibited harming any non-game bird that crossed the Canadian or Mexican border.  Linda was disagreeably reminded of the country's new president, who wanted to hand over national sovereignty to the United Nations, and she told Water, as civilly as she could, that she was very busy raising her children and would appreciate it if he wouldn't knock on her door anymore.
All of this, by the way, happens at a time when the economy is tanking:
Anxieties hung like a cloud of no-see-ums on Canterbridge Court; they invaded every house via cable news and talk radio and the internet.  There was plenty of tweeting on Twitter, but the chirping and fluttering world of nature, which Walter had invoked as if people were still supposed to care about it, was one anxiety too many.
When Walter kidnaps Linda's cat and hands it over to the pound, she acquires three more cats and sends them over to his property. The war appears as ready to escalate as those budget fights we've been seeing in Congress—only then his wife saves the situation using classic 1950's tactics: gifts of cookies, open houses, and diplomatic conversations. Linda, who realizes that she's been alienating the rest of the community in her vendetta against Walter, softens.
Part of me was grateful for this vision of truce, given the heated rhetoric and bad economic news we're seeing on the news these days.  But part of me felt that Franzen was leaving out a far more promising set of possibilities.  It's as though his vision is too small.  Let me explain what I mean by a bigger vision.
Last week, while reading Freedom, I was also advising low income students who will be attending St. Mary's College of Maryland in the fall. Because we are a state college with state tuition, we are able to admit far more of such students than expensive private liberal arts colleges can.  At the same time, because we are modeled on those small colleges, we can give our students individual attention. Indeed, we track these students very closely. As a result—and this is the statistic that our college is nationally noted for—our low income college students graduate as a rate only a few percentage points below the rate of our middle and upper-income students. (The figure is roughly 80% graduation rate for minority and first-generation college students, 85% for the others.) Other state schools are lucky to have a graduation rate for such students over 50%.
To give you a sense of the students I was working with, one had been homeless, one somehow managed to escape the gangs and drugs of his neighborhood, one was the daughter of El Salvadoran immigrants, and one had seen her mother murdered by her boyfriend at age four.  Past school history indicates that most if not all of these students will graduate from our college to become lawyers, social workers, teachers, business people and—the future I predict for this last student, who is very impressive—doctors. They will become the bedrocks of their communities like the women in my reading group.
My novelist friend Rachel Kranz warns that novels, as wonderful as they are, can be dangerous because they give the impression that they encompass the entire world where in actuality they have a particular perspective and only represent a slice. Franzen is not wrong in what he documents but he leaves out a lot and confirms us in our pessimism. Because of government Pell grants and state of Maryland initiatives and a college that sees it as its mission to reach out to all sectors of society, our low income students have more freedom than they otherwise would have had, and many will make productive use of that freedom.  We will all be the beneficiaries.
Go here to subscribe to the weekly newsletter summarizing the week's posts. Your e-mail address will be kept confidential.